The pavilion HERA 9000 is categorized PREMIUM (product brand European manufacturer).The greenhouse is made ​​of anodized aluminum.Glazing is a classic clear safety glass 3 mm thick (wall) and unbreakable cellular polycarbonate 6 mm (roof).Polycarbonate - High-quality double-wall polycarbonate with UV filter (become fragile, yellowing) from the European manufacturer. Polycarbonate and glass are mounted in aluminum profiles with steel staples. Part of the pavilion is a galvanized steel base with a height of 6 cm.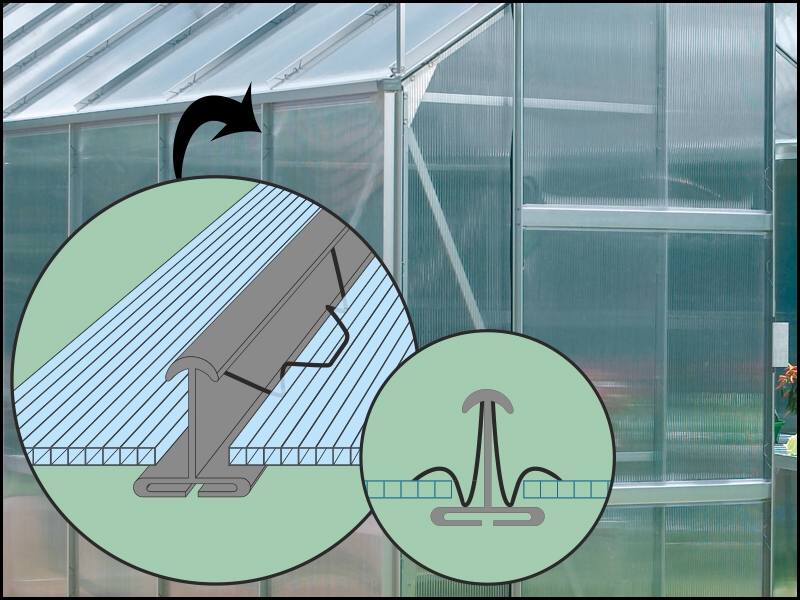 On unbreakable polycarbonate hailstorm we provide extended warranty of 10 years.

The pavilion HERA 9000 are available in three colors design - metallic silver (anodized aluminum) or green lacquer or black lacquer. Metallic silver version is usually in stock (see information at the top next picture), and green and black versions are always on order with delivery in 3-4 weeks.

Pavilion HERA 9000 - Dimensions:
- Diameter hexagon peaks between 380 cm
- The diameter of the hexagon between the walls 320 cm
- Height of the wall to the edge of the roof 194 cm
- The height of the peak of 300 cm

The contents of the package are hinged sliding door (W x hole = 80 x 177 cm), profiles, glass, painted galvanized steel base, 3x tipping ventilation window with manual, all fasteners. Wooden floor of an image is not included in the packs.

Method of anchoring glazing:
- Roof - polycarbonate inserted into the AL profile
- Hips - glass is anchored by means of snap strips.

A greenhouse can be built only on a foundation of galvanized sheet (included). The conservatory, you can buy a variety of high standard accessories - racks, thermometers, hygrometers, irrigation equipment, electric resistance heating of the soil. Greenhouse delivered as a kit with detailed assembly instructions.

Specifications:
Category: Aluminum Greenhouses
Color: Black
VAC. Window: 3
Built area: 10.24 m2
Width (external): 3.20 to 3.80 m
Length (exterior): 3.20 to 3.80 m
Height (external): 3.0 m
Doors: Sliding hinged
Door Width: 0.80 m
Door height: 1.77 m
Anchoring glazing: steel fasteners
Construction material: anodized aluminum
Glazing Material: Sec. Glass 3 mm (wall) + 6 mm polycarbonate (roof)
Structural warranty:
The warranty for glazing: 10 years at unbreakable polycarbonate hailstorm
Base bundled: yes
Glazing Material:
HobbytecA Family Corporation
Customer satisfaction and product quality are our priorities. We strive to make products that provide joy and benefit to those who use them.

Assembly within the Czech Republic and Slovakia

We are currently capable of providing assembly for our products to any location in the Czech Republic and Slovakia.

Design, Quality, Price

Our products are the combination of timeless arrangement, quality materials, and prices unmatched anywhere on the market.

Largest showrooms in the Czech Republic

We created the largest showrooms of their kind in the Czech Republic. We are located in Prague and Brno.

On-site production

Our work is based on our own manufacturing This allows us to create tailor-made orders.

Widest assortment in the Czech Republic

We provide our clients with a comprehensive offer of all our available products for the home and garden.